Hire Dune Buggy in Dubai
Are you looking for a Dune Buggy to rent in Dubai? Dubai Tour Packages offer exciting, innovative and breath-taking adventures in the Arabian Desert. Our Dune Buggy service will allow you to experience the desert reds sands like a professional. With our dune buggies tours, you can enjoy a vacation trip with your family and friends in the beautiful and challenging terrain of Dubai. Dune Buggies can be used by anyone. They are fun, safe and simple to operate. With the help of our professional experts, you'll be up and going in no time. All buggy come with safety features such as a complete roll cage and soft bucket seats. Our Dune Buggies are the ideal machines to experience the Arabian Desert.
Verified
Great time Sultan was a great guide. We had a blast. These dune boogies are fast and we would highly recommend!!
Verified
Exceptional Service Had an amazing set up done By Sohail , Hyder and Aijaz..The warmth and service was exceptional. Thank you for the experience 😊😊😊😊
Verified
Exceptional Dune Buggy Experience Fantastic experience with Tahir, enjoyed the Dune Buggy drive 200%, Tahir was very helpful, a great guide and great photographer!! Definitely a must do if you love driving and if you're an adrenalin junkie!!
Verified
Sohel the Best quide Sohel is the Best quide ever. I love everythink ! Sohel made this trip very special. Thank you Sohel
Verified
Awesome Yesssaaahhhh!! Unreal!!! Sooo fun highly recommended. Our guide sultan was super cool everyone was really nice
Verified
Desert buggies Sohel and ejaz provided a top class trip! So much fun in the desert buggying around! Definitely recommend
Verified
Nov buggy's Great experience! Super fast, great cars, really enjoyed the whole day out following some mad men around
Verified
Beached Seal Awesome experience, especially seeing a Seal beached in the desert. Who knew? Adrenaline filled and great guide. Would deffos recommend!
Verified
Great experience, fantastic machines and great team The team have created amazing machines to fly around the desert in. Great experience, fantastic service and the more powerful cars are worth it
Verified
Great experience Sohail was amazing definitely going to do this every winter! Don't be scared just follow the tire tracks of the Sohail
THRILLING WAY TO SEE THE DESERT
Rent a Buggy In Dubai & Conquer The Desert
Safari Desert Dubai invites you to unlock the secrets of the Dubai desert by taking full use of our services, all operated by our team of experienced professionals who will ensure that your experience is as safe as possible in our dune buggies and that you have an absolute blast as well.

Our team of professionals comes fully prepared for all situations, so you can be at ease knowing that there is always a backup plan ready in case any problem should occur. Be it a dune buggy or a dirtbike, we guarantee that you will have a memorable and adrenaline-pumping, once-in-a-lifetime adventure with us. Experience the thrill of off-roading in Dubai's desert by booking your tour with us today!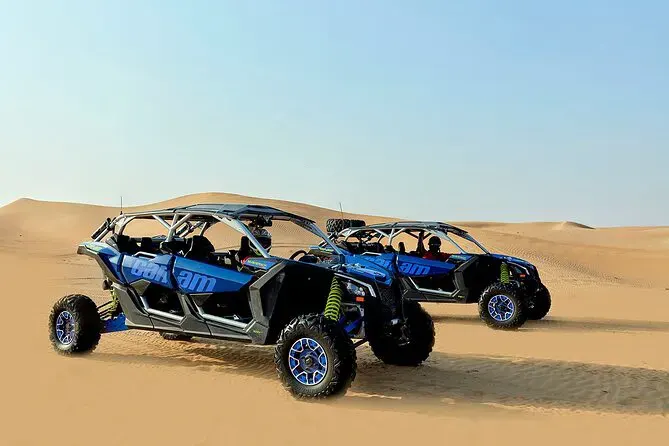 NO EXPERIENCE? NO PROBLEM
First-class Dune Buggy Dubai Experience
If you're first-time driving dune buggy in Dubai, don't worry – our team of expert instructors will show you the safest and most exciting ways to enjoy your off-road buggy experience. With their patience and clear guidelines, you'll be driving across the desert and taking in the mind-blowing scenery in no time. Our dune buggies in Dubai are built for safety without sacrificing thrill and come complete with roll cages, seatbelts, top-of-the-range suspension, and bucket seats to ensure the most comfortable drive. We'll also provide every driver and passenger with safety goggles and a helmet to ensure maximum protection. So whether you're a first-time driver or an experienced off-roader, we've got you covered. Come and enjoy the desert buggy with us!
Safety Tips For Dune Buggy Riding
To provide you with a memorable trip, we have provided some information on safety as well as how to operate the buggy through Dubai's deserts. Dune Buggy Safety Tips.
Dune Buggy Safety Tips
Dune Buggy tours are a great way to explore the desert of Dubai with the help of professional and experienced tour guides. Our buggies have advanced safety features so you don't need to constantly watch your back. You can instead spend time exploring the desert dunes. The dune buggy tour gives you an unparalleled level of exploration and freedom. Enjoy a truly unforgettable experience in the vast and beautiful Dubai desert.

It is essential to know the safety measures that you should take when driving a buggy. Sand dunes in the desert can make driving the buggy more difficult. Follow our safety tips to reduce the risk of an accident..
Frequently Asked Questions