ATV/QUAD BIKE RENTAL DUBAI
ATV Rental / Quad Biking in Dubai
Make some time for yourself and discover Arabian Desert on a Quad Bike ride, thrilling at every curve and turn. Dubai Tour Packages has long been known for friendly attitudes, high quality maintained bikes and tailor made tours; now our Quads/ ATVs can fulfill the dreams of many and surpass expectations! If you are tourist, do not hesitate to experience one of UAE's memorable tourist spots while here - this may become one of your greatest travel memories ever.

Experience an extraordinary adventure aboard our Quad bike and experience its thrill! Experience panoramic desert safari views with family or friends for an enjoyable quad biking day at Dubai Tour Packages.
Verified
Dune buggies This was insane & the tour guide sohel was very helpful, he takes loads of pictures, highly recommended, I would definitely do this again, great for couples or friends
Verified
Dune buggies in the desert Great time out on the desert with dune bikes! Amazing friendly team and service. And safe! Really enjoyed the driving, pictures and atmosphere
Verified
Amazing experience! Amazing experience! What a fun ride, loved the sand boarding experience. The guides were amazing and attentive. Will definitely come again.
Verified
Great experience! Great trip, pick up was seamless and guide had plenty of interesting trivia about the area. The dune buggies were great too and we got plenty of time to drive around and sandboard. Photograph also takes pictures if you want!
Verified
If you like to drive ..... This is a MUST ... The most amazing experience ever on 4 wheels ! Better than a 911 GTR on a race track ....Haidar & Tariq were great.... I have to move to the desert and get a dune buggy !!!! . I could spend all day here !
Verified
Fantastic Experience Wow such an amazing afternoon and evening. I've done these before but not with this company. Our driver Asif was brilliant. I felt safe off roading and he made sure we had everything we needed all night. I would definitely recommend and if I do a safari again I will be using this company for sure.
Verified
Bucket List Activity Thank you for yesterday. The experience was amazing starting with the pick up driver who was friendly and professional. Great powerful buggies with experienced staff. Dinner was fabulous, delicious with lot of options accompanied by great entertainments. Was happy with all the experience. A must do activity.
Verified
Amazing Experience! Incredible experience, first class all the way. Felt safe and secure and truly had an amazing time. We were sure to take many photos which will last a lifetime. Highly recommend!
Verified
Unforgettable! Sohel was a brilliant and attentive guide with great experience on the dunes. My girlfriend and I had an unforgettable experience here, would highly recommend!
Verified
Experience Sohel. Amazing photographer. Very friendly and had a brilliant time. Very very good 10/10 would definitely recommend
NEW TO OFF-ROADING? WE'RE HERE TO GUIDE YOU
Easy-To-Learn & Exciting Quad Bike Experience
No need to stress if it's your first ride with off-road quad biking. Our expert instructors will teach you the ropes, ensuring the safest and most exhilarating experience on your quad bike adventure tour. They'll guide you with patience and clear directions, so you'll be exploring the desert and taking in the awe-inspiring landscape before you even realize it.

We take safety very seriously when it comes to quad biking in the Dubai desert, especially for beginners, but that doesn't mean we skimp on the thrill factor. To guarantee your safety, we provide all the necessary riding gear like helmets, gloves, and goggles for everyone. And rest assured, our quad bikes are meticulously maintained and finely tuned to ensure a comfortable and secure ride. Whether you're a beginner or a hardcore off-road enthusiast, we've got everything you need. Stop by and get ready to feel the excitement of cruising through the desert on our epic quad bikes!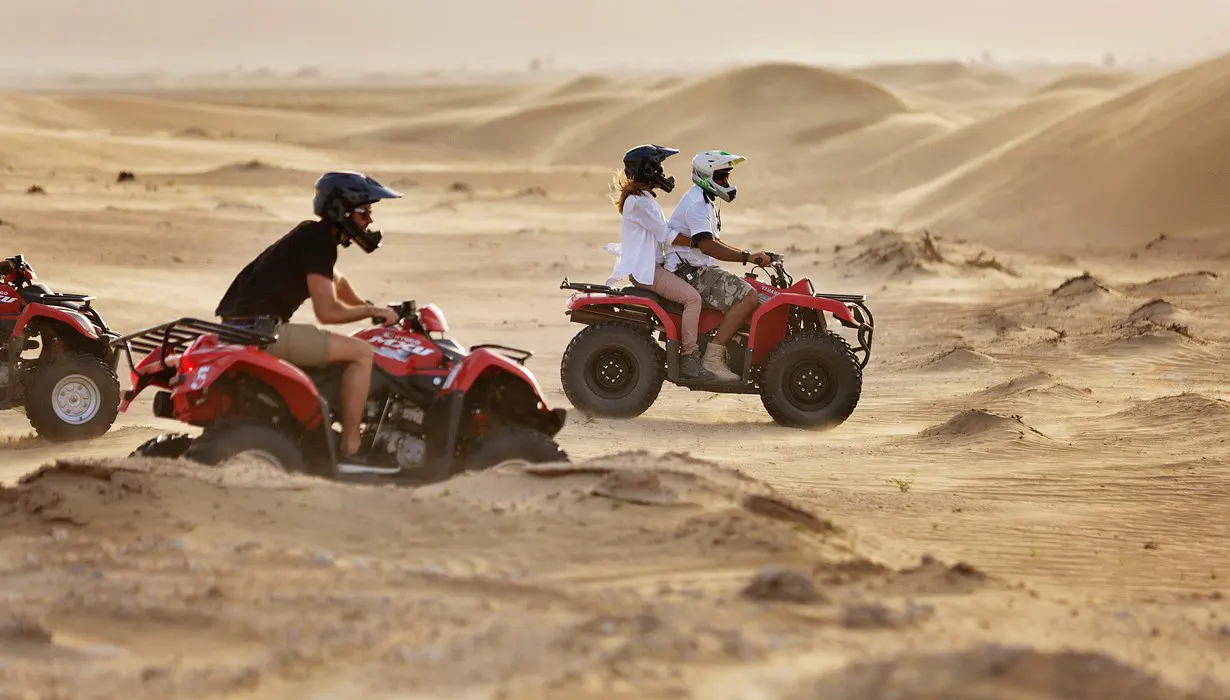 NO EXPERIENCE? NO PROBLEM
First-class ATV/Quad Bike Dubai Experience
No need to fret if this is your first experience riding a Quad Bike in Dubai - our expert instructors are on hand to make it safe and exciting! They provide clear guidelines, patiently leading riders through the desert scenery so they're soon zipping around on off-road rides enjoying breathtaking landscapes and taking in unforgettable sights! Quad Bikes in Dubai have been designed with safety as the top priority, without compromising the thrill. Our Quad bikes feature roll cages, seatbelts, top-of-the-range suspension and comfortable bucket seats to provide a relaxing yet exciting ride experience. In addition, each rider and passenger receives safety goggles and helmets to guarantee maximum protection during their adventure ride. No matter your level of experience with off-road adventure, we have you covered. Come enjoy a desert adventure on one of our Quad Bikes! This adapted paragraph highlights the safety and guidance provided during Quad Bike tours in Dubai.
We Prioritize Safe Quad Biking in Dubai
Safari Desert Dubai puts safety at the forefront. We don't just rent you bikes in hopes you don't get involved in an unfortunate collision while out riding, as accidents are always possible with all the adrenaline pumping through you and terrain to cover.

Safari Desert Dubai bike rentals come complete with professional instructing from experienced instructors who ask pertinent questions to determine your level of proficiency, while for novice bikers we provide even closer monitoring. In addition, quality safety gear ensures our clients remain protected during rides on electrifying yet risky dune trails; while breathtaking scenes may sometimes become covered in dust making visibility near impossible and our gear ensures you remain protected should an incident happen.
Frequently Asked Questions